DJ Emir at Karma Nightclub in St George Grenada
Saturday April 5th Hip Hop Reggae Massive at Karma Nightclub
with One of The United States Top Nightclub and Mixtape Deejay Selectas, DJ Emir The Internet Mixtape King!
http://www.karmavip.com/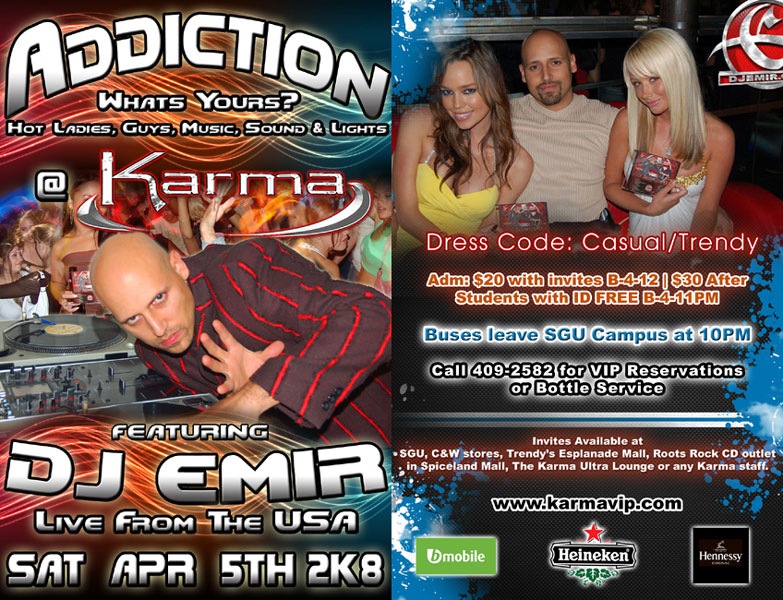 With his extensive music background and previous Dancehall Reggae Super Club nights
DJ Emir will most likely be killing it huge in Grenada on Saturday April 5th.
One of the best Nightclub and mixtape DJs in the US, DJ Emir will be flying in from the United States with his ussual slew of exclusive remixes and some of the hottest Dancehall remixes the island has ever heard to tear up the the club on Saturday night. With Busses leaving from SGU campus directly to Karma Nightclub the place will be packed with the Islands hottest and sexiest nightclub clientele. Early arrival is suggested. Busses Leave SGU Campus at 10pm!
Call 409-2582 for VIP Reservations or Bottle Service!
Print the invite above for discount entry!
PS: Grenada, Now is your chance to pick up DJ Emir's hot New Mixtape the
Transformers Mixtape
! That's our
favorite mixtape
and our pick for
mixtape of the year
, so go down to Karma in Grenada on Saturday April 5th and get a free copy for yourself! This is going to be huge!
PS: to Book DJ Emir for Your Event Call 303 995-0875or visit http://www.djemir.com/
More DJ Emir Events on the Calendar ADD Your Event Today!

DJ Emir Transformers Mixtape CD